The Clash of Kohli And Gambhir
The rivalry between Kohli and Gambhir started in 2013 during a match between the Kolkata Knight Riders (KKR) and the Royal Challengers Bangalore (RCB) in the IPL. The two players got into a heated argument, and since then, they have been taking jabs at each other through social media and interviews. However, in recent years, both Kohli and Gambhir have put their differences aside and have even shared the dressing room while playing for India.
The First Clash Kohli and Gambhir
The first clash fight between them took place in 2013 during an IPL game between Royal Challengers Bangalore (RCB) and Kolkata Knight Riders (KKR). After a fielding incident, Gambhir, the captain of KKR, and Kohli, who was leading RCB at the time, got into a fight. Before being separated from their colleagues, the two got into a furious argument and even started pushing one other.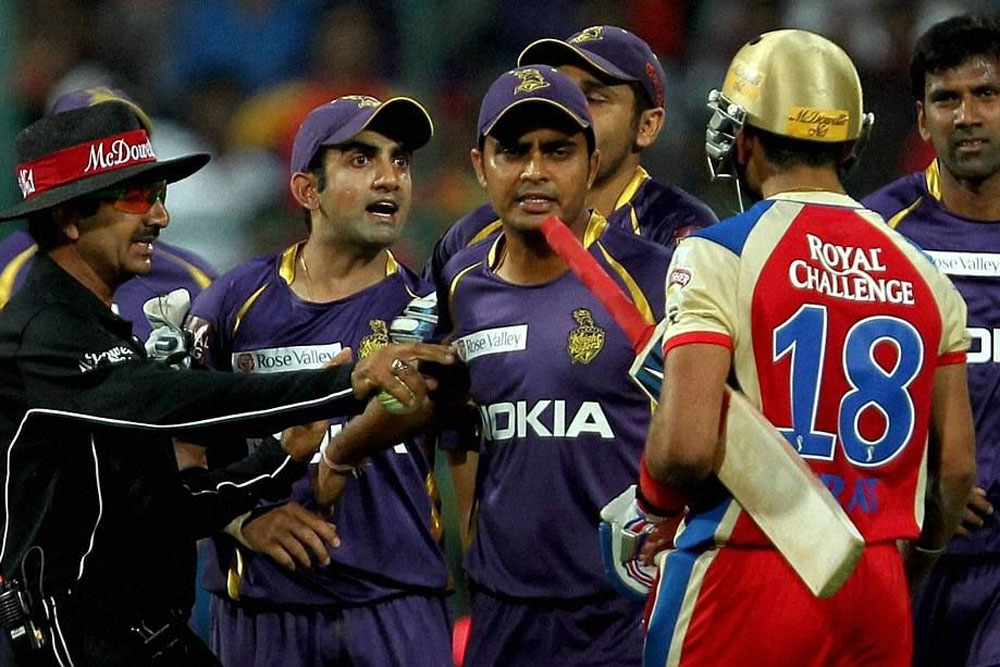 In a recent interview, Gambhir addressed the iconic on-field altercation ten years after the incident and said he never took it personally. Gambhir remarked that he anticipates Kohli to be equally competitive on the pitch as himself. He thinks that as a leader, one must occasionally put personal ties aside to achieve what is best for their team.
IPL 2016 Incident Kohli and Gambhir
In 2016 IPL KKR captain Gambhir's belligerent behavior was on full display during the match between KKR and RCB at Eden Gardens. Despite scoring 183 runs, KKR fell short by 9 wickets in the game. In the 19th over, Gambhir hurled the ball in a fit of passion in the direction of Kohli, who was standing there after finishing the run. Gambhir and the authorities got into a fight after the event. Due to his flawless 51-ball 75 run in the contest, Kohli was named the Man of the Match.
You may also like: How Much Money Were Fantasy Cricket Ads Paying for Cricketers?
IPL 2023 Saga
The most recent saga in them is after RCB defeated LSG in an IPL 2023 match. After a tense match between the two teams, a heated argument between Kohli and Gambhir broke out.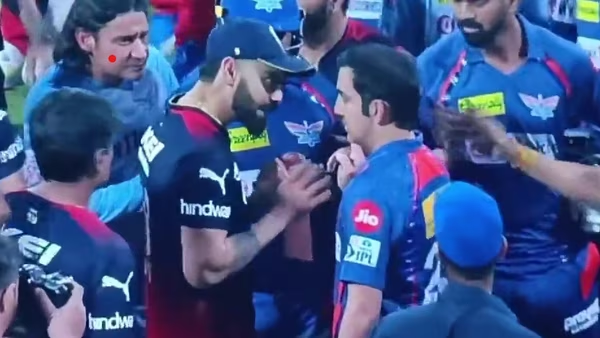 Reason Behind Clash of Kohli and Gambhir
When a wicket fell during the LSG innings, Kohli made his usual animated gestures to celebrate. In their previous match, the RCB home crowd was instructed to be quiet after LSG's narrow victory in the previous match last month by LSG's team mentor Gambhir. On this particular occasion, Kohli not only kissed the LSG supporters when their team lost a wicket, but he also imitated Gambhir by putting his finger to his lips.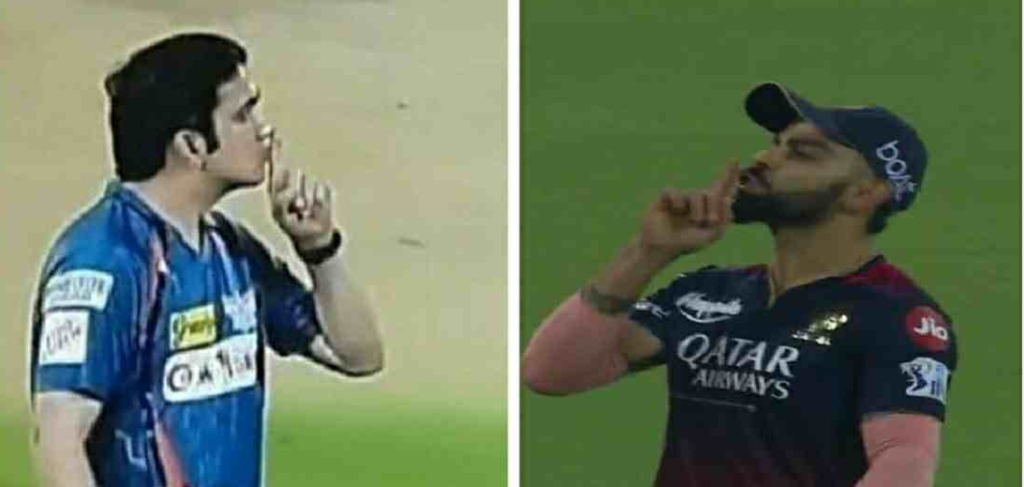 When LSG tail-ender Naveen-ul-Haq was batting, there was a flashpoint between Kohli and him. It seemed as though Kohli said something that made Naveen respond. After a brief verbal confrontation in which Kohli reacted, the umpires and Amit Mishra at the opposing end stepped in to allow play to continue.
Following the conclusion of the game, Naveen and Kohli exchanged words as the teams lined up to shake hands. Naveen continued to talk to Kohli, as Kohli was on the verge of moving on to shake the hand of the next player. Glenn Maxwell intervened to break up the altercation as both players appeared to be getting hot under the collar. After then, Kohli left to shake hands with the other members of the LSG squad.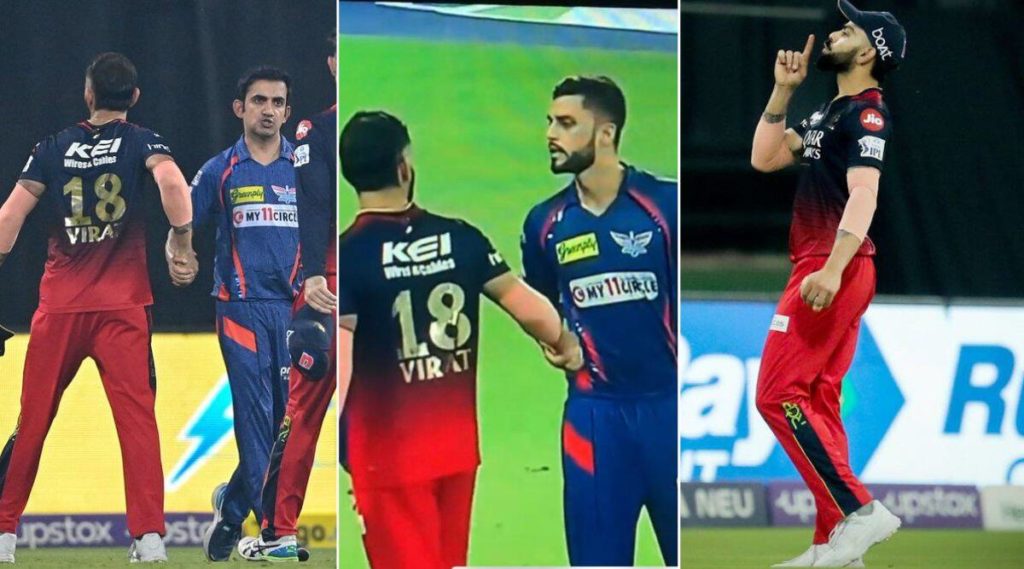 Faf du Plessis, the captain of the RCB, walked his opening partner out of the area as Naveen continued to speak and additional LSG players and officials gathered around. But Kohli turned around and started talking to Rahul before engaging in a contentious exchange with Gambhir. Once more, Mishra intervened between the two to defuse the conflict.
A little while later, LSG captain KL Rahul appears to have attempted to defuse the situation between the two as well. While Rahul, his captain, begged Naveen to talk to Kohli, it appeared in another video that he refused.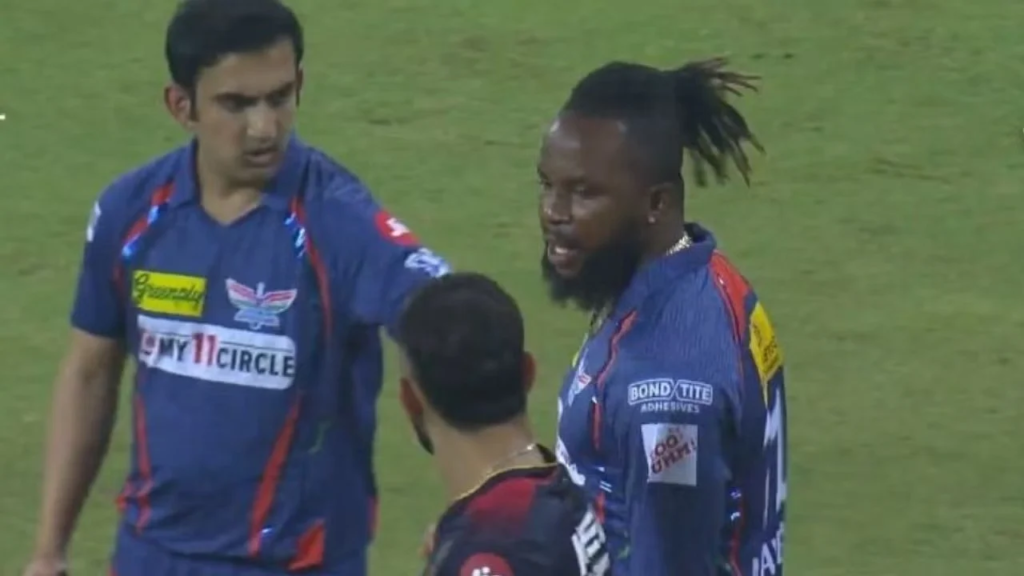 After the confrontation, Gambhir pulled Kyle Mayers away from Kohli when the two were conversing, and he was later restrained by other LSG players as he waved in Kohli's direction. The chat between Virat Kohli and Kyle Mayers is most likely where the one between Gautam Gambhir started. Later, a fight between Kohli and Gambhir broke out as the two cricket legends sparred over the events that occurred during the final few overs on the pitch. It was difficult to stop Gambhir and Kohli after that incident.
Naveen-ul-Haq, Kohli and Gambhir, and Fined By IPL Governing Council
Due to their violations of the Code of Conduct during the IPL match between LSG and RCB in Lucknow Virat Kohli and Gautam Gambhir have been penalized 100% of their match fees. In the match at the Bharat Ratna Shri Atal Bihari Vajpayee Ekana Cricket Stadium in Lucknow, both Kohli and Gambhir admitted to committing a Level 2 offense under Article 2.21 of the IPL Code of Conduct.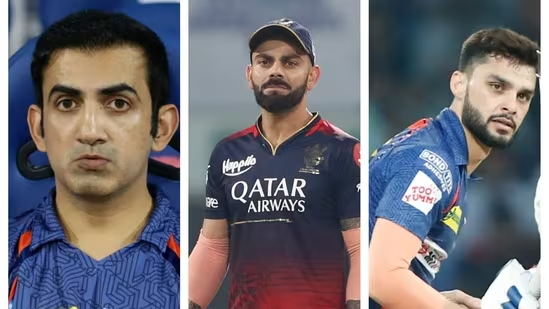 For breaking the IPL's Code of Conduct, Naveen-ul-Haq, a right-arm fast bowler for LSG, was fined 50% of his match money. After the game, at the customary handshake, Naveen and Kohli got into a contentious exchange that led to the event in question.
Virat Kohli has to pay a fine of Rs 1.07 crore.
Gautam Gambhir has to pay a fine of Rs 25 lakhs.
Naveen-ul-Haq has to pay a fine of Rs 1.79 Lakh.